ABOUT MADISYN TAYLOR
Madisyn is the Co-Founder and Editor-In-Chief of DailyOM Created in 2004 DailyOM serves well over 1.1 million subscribers with daily essays on all areas of self-improvement and creating a better life. Madisyn is an award-winning author of 2 books and has a regular column on Oprah.com. Previously, Madisyn was the creator of an aromatherapy line of products sold worldwide.
PURE. LUXURIOUS. NATURAL. ESSENTIAL.
Attentively combining superb elements and inspired design, Madisyn Taylor offers a range of products to beautify the home, heal the body, and revitalize the spirit. Each item is created not only to take advantage of all the best nature has to offer, but to do so in a way that is aesthetically pleasing and visually graceful. With every new season, we look for fresh ways to create products that promote balance, rejuvenation, and serenity.
Madisyn Taylor's essential philosophy produces thoughtfully balanced products for the home, body, and spirit.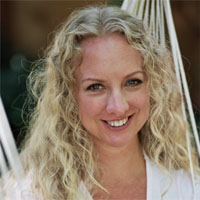 Photograph by Nurha de Souza